Nearly two million households will receive a £150 payment from the Scottish government in a bid to tackle the rising cost of living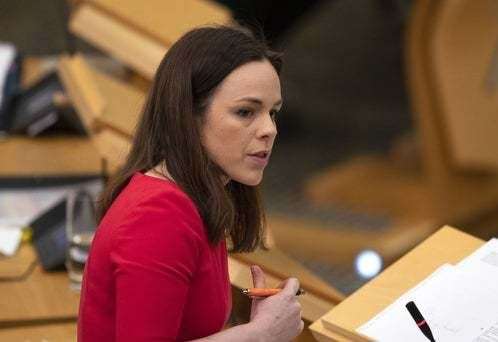 Finance Secretary Kate Forbes said the money would go to households in municipal tax brackets A to D and anyone who is eligible for the municipal tax reduction.
In total, some 1.85 million households will receive £150 in aid when these elements are combined.
An additional £10million is also to be earmarked for people struggling with fuel bills.
The money comes on top of the £120m earmarked for local government in a bid to contain council tax increases over the coming year.
Speaking at Holyrood this afternoon, Finance Secretary Kate Forbes said of the £150 payment: 'I discussed this matter directly with COSLA just last night, indicating my preference for this to be distributed as a payment rather than as a municipal tax credit.
"However, due to the urgency of mobilizing this funding quickly, municipalities will have a choice.
"They can either make a direct payment or credit council tax accounts as long as it can be done in April."
She added: This is clearly an imperfect scheme. It will reach some households that may not need it, but it is the only way.
"And it's frustrating that we don't have all the levers that I wish I had, like a comprehensive social security system or a tax system to be able to better target and deliver that support.
"I know that the cost of living crisis is also affecting households who are not receiving benefits, who are not asking for council tax reductions, and who are also facing difficulties.
"We must do what we can to prevent households and families on the edge of the poverty line from crossing it.
"To go a step further to help councils have so much discretion, I am also announcing today that I will allow any existing underspent discretionary funding for housing payments to be redistributed between councils and carried over the year to enable them to provide targeted and discretionary support and I will also allow any existing under-spending of the Scottish Welfare Fund to be carried forward by local authorities for the same purpose."
She also described the support she advertised as "insufficient".
"Households across Scotland and across the UK are grappling with the wide range of rising costs and many macro levers, for example around energy regulation, reside with the UK government ", she said.
"And so in that spirit, I will write again to the Chief Secretary to the Treasury, emphasizing that we must urgently work together to use our joint powers to do more to tackle the cost of living and I hope that this teamwork can unite in this offer."
Ms Forbes said the payments were honestly 'not enough' with households across the UK struggling, and called for 'urgent' action by the UK government to help.
---
Do you want to react to this article ? If yes, click here to submit your thoughts and they may be published in print.
---