Monthly rent payment: a blockage in the wheel of business?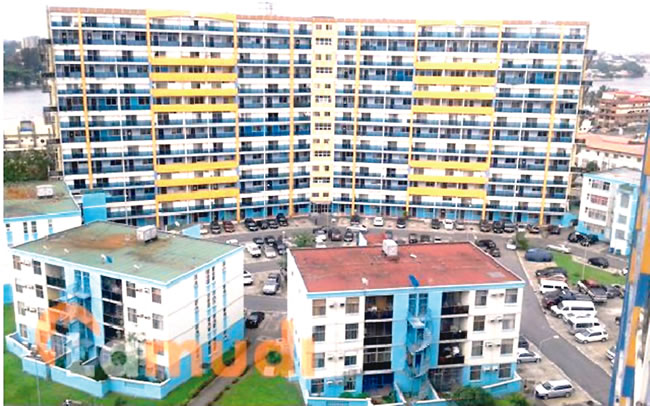 As government plans to mandate monthly rent collection from the initial practice of one to two years prepayment gain momentum, many real estate professionals and developers/investors have not yet accepted the new proposal. reports DAYO AYEYEMI.
AS Landlords and Property Developers/Investors have yet to agree to the Lagos State Government's proposal to initiate statewide monthly rent payment at all times, a new bill to erect into offense any landlord The request for advance payment of rents from tenants of residential and office buildings and spaces beyond three months also surfaced before the National Assembly last week.
The bill, titled "Advance Rent for Residential Apartments, Office Spaces, etc., Regulation Bill 2022" was sponsored by the legislator representing Kogi West Senatorial District, Senator Smart Adeyemi.
Justifying the essence of the bill, which has already passed first reading, Adeyemi said it would allow tenants to make a maximum prepayment of three months' rent, followed by a monthly payment.
He said he discovered that landlords were forcing tenants to make one-year and two-year advance rent payments before giving them the keys to their apartments.
"It may not be a problem for a number of people, but for many others it is a big pain for them. Most Nigerians need the protection of the law to be able to meet their basic needs after paying their rent," he said.
Asking for help, Adeyemi said, "Many homeowners did not get loans to build their houses; these are products of the free money they acquire from the system. Yet they make life difficult for poor Nigerians who do not have such privilege to earn ill-gotten money with the system and put structures in place.
"The buildings are constructed in such a way that an average Nigerian could not afford. Many people engage in corrupt practices to get their rents paid, while the ladies engage in prostitution. "The law we are proposing provides for a maximum rent advance of three months. After the expiry of the three months rent, tenants must pay monthly.
"There are many tenants whose wages compete with their rents because they live in cities like Abuja. The law will prevent the working poor from any form of oppression," the senator said.
While many industry players see mandatory monthly rent payments as the way forward, other experts are highly skeptical of the move, saying it would be a double standard if the government increases the pressure to control the rental market and did nothing against the rise. cost of building materials.
Supporting arguments
Chairman of HOB Estates Limited, Chief Olusegun Bamgbade, sees the initiative as a welcome development, saying that "if the system is designed to equally protect the interests of developers/owners, it is not really a bad idea".
According to him, the monthly payment of rent would eliminate the urge to get rich quickly among the citizens. He described wholesale rents as "suicidal".
He advised other developers to support the Lagos State Government and the National Assembly to look into the matter and pass legislation to that effect.
"Once developers are protected by relevant laws, especially with Bank Verification Number (BVN) and National Identity Number (NIN) which prohibit multiple identities, no one can get away with your money.
All the government needs to do is fix the interest rate at probably three percent a year for property developers," Bamgbade said.
According to the boss of HOB, with a low interest rate, developers could take out a long-term loan for the construction of buildings and give the houses away on a monthly rental basis.
"We are in too much of a rush to make money overnight; nothing prevents property developers or owners from collecting their monthly rents.
"Banks are to blame for low activity in property developments due to their greed and selfish desire to make profits overnight."
"There is nothing to stop the Central Bank of Nigeria (CBN) from setting property development lending at 3% per annum, with a caveat that banks must lend 25% of their capital base to property development at 3% per year. see homes everywhere at affordable rates. When the government is ready, there is always a way out," Bamgbade said.
Group Managing Director, Global PFI Group, Mr. MKO Balogun, said real estate depends on occupancy, explaining that it would amount to wasted investment if properties were built and not occupied. According to him, the government policy is guaranteed rent for landlords.
Another professional, Emmanuel Akinwunmi, pointed to three months' rent legislation as a good proposal, noting that in civilized climates rent payable was two months in advance "after which one month's rent at the advance ensues".
"Three months of advance payment of the rent is not bad; but, if we are to copy compassionate best practices, copy well. In these civilized countries (I don't want to use developed countries), the housing construction industry is treated as the beating heart of the economy.
"Interest rates are not just in the single digits, but vary from 1% to 5% per year; mortgage financing is fully accessible to eligible borrowers. Technology helps reduce costs because the lender and borrower may not even meet physically," he said.
According to him, the change of ownership of a property in a sale and purchase agreement could happen within hours, adding that incentives were available for developers, owners, buyers and other stakeholders in the chain. valuable.
Furthermore, he pointed out that social housing in advanced countries was robust and that property taxes reduced the incidence of unused properties.
"In Nigeria, landlords would say 'buildings can sit unused; buildings do not eat". In civilized climates, buildings 'eat' because paying property tax discourages keeping properties unused," he said.
He also raised a big issue regarding the country's legal capacity, judicial efficiency and regulatory comfort to oversee what he described as the "proposal with a human face".
He also argued that not all landlords had easy access to easy money, calling for a wholesale overhaul of the system.
Akinwunmi said, "A holistic system overhaul is the answer, not isolated applause generating quick-fix proposals by those looking the other way as the country remains precariously on the brink! God."
Argument against
The Executive Secretary of the Association of Housing Companies of Nigeria (AHCN), Mr Toye Eniola, said the policy would discourage investment in the property sector.
He described the new measures as "another ploy to impoverish the people", saying investors may look to other areas to invest rather than real estate.
He raised some posers regarding the government's intention to control rents without controlling the cost of building materials.
He said: "How can the government plan to control rents without controlling the rising cost of building materials and interest rates? Where is the conducive and enabling environment that will attract investors to the sector?
"Where is the foreclosure law that will protect owners from recovering their property in the event of default? Where is the tax relief extended to property investors?
"Where is the government program to support social housing for low and middle income groups?"
General Manager of Ace Hi-Teck Construction Company, Mr. Adewunmi Okupe sees the new bill as a hindrance in the wheel of progress, saying he is not aware of any law that would protect homeowners at this regard.
"And even if there is, how enforceable is it? It's really very discouraging but not enough to deter real estate investing because people will always find a way around it.
"What's stopping a landlord from collecting a year's rent and making serial monthly receipts and/or paperwork to cover?" says Okupe.
According to him, the government is content to look at the fate of tenants without taking into account the owners who have invested their money.
On leaving, he opines that the government should guarantee payments, "perhaps on a quarterly or annual basis to the landlord while the tenant pays directly to the government."
"They can start with people who are entitled to a pension and use their pension as collateral," he added.
A real estate professional, Mr Femi Oyedele, said the proposal to force monthly rent collection was contrary to real estate investment, adding that the sponsor of the bill was unaware of what was happening in real estate .
According to him, there was nowhere in the world where the government interfered in the process of doing business.
"Senator Smart Adeyemi knows nothing about real estate. I would have joined the case with him if he only offered a maximum of three months in advance for residential properties only.
"There is no place in the world where the government interferes in the process of doing business.
Offices, shopping centers, warehouses, industrial buildings, etc. are not basic human needs. »
"Under what pretext will the government control the price of offices and industrial premises?
"For a tenant who wants to transform the building and who needs an emphyteutic lease, isn't the government acting like a clog in the wheel of his company? Only residential building rents are controlled and nowhere is direct control effective as a 'model' control," Oyedele said.
According to him, those who were begging the senator for one year's rent would still be begging him for three months and one month's rent, pointing out that people need jobs and not rent control in Nigeria.