ALIZZ Islamic Bank offers travel finance for monthly payment from 18 OMR only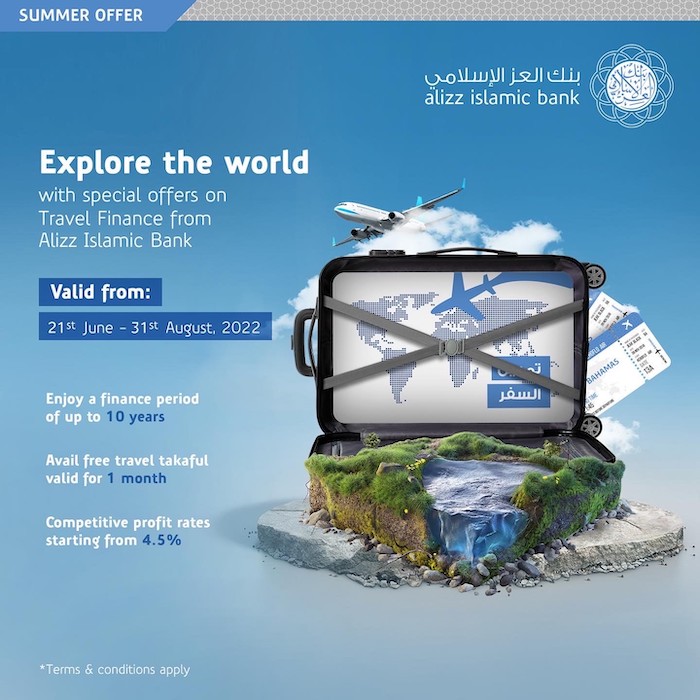 Alizz Islamic Bank has announced the launch of a travel finance offer to help customers enjoy their summer holidays in the country of their choice, with easy payment options that can extend from 3 to 10 years to flexible financing rates. This offer is valid from June 21 to August 31, 2022.
The Travel Finance is based on the Shariah-compliant "Service Ijarah" product, which is approved by the Shariah Supervisory Board (SSB). To take advantage of this offer, the customer must go to any travel agency and request a quote, which he must submit to the bank branch. The transaction will be completed easily and within 24 hours.
This offer is available at a competitive financing profit rate starting from 4.5% and a repayment period of 3 years, knowing that the minimum financing amount is 1,000 OMR. These offers are open to customers holding salaried accounts at the bank. As for those who do not have a bank account, they must transfer their salaries to the bank in order to take advantage of the Travel Finance offer as well as other similar offers such as Home Finance, Personal Finance and Auto Finance.
For example, if the client requests travel finance of 1,500 OMR for a financing term of 10 years, their monthly payment will be a maximum of 18 OMR, as the extended repayment period will automatically mean lower installments. Profit rates also decrease with shorter payment terms. Interested customers or those who transfer their salaries to the bank can go to the nearest branch to submit the required documents or inquire about the financing conditions or contact the call center.
Alizz Islamic Bank is proud to offer its customers a Shariah-compliant personal finance "Ijarah Service" to improve their lives and help them achieve their goals. It is designed to help them meet their needs, whether it is travel, medical expenses, children's school fees, marriage or any other service, at the most competitive prices. With "Ijarah Service", the bank will have "agreements" with service providers, whereby the bank leases the services required by the customer directly from the provider and sub-leases them to the customer.
This financing offer is open to Omanis and resident expatriates, subject to simple documentation and facilitated procedures and approvals, and covers 100% of the value of goods/services. It is accessible to employees and the self-employed. The minimum customer wage is OMR 300 for government employees and OMR 350 for private company employees.